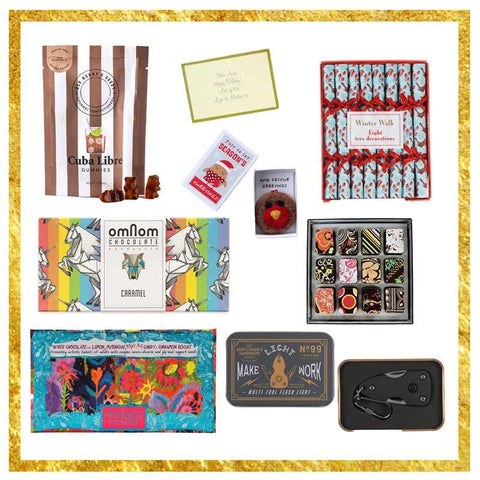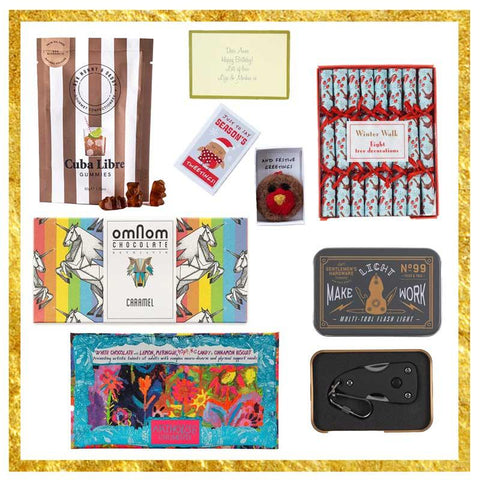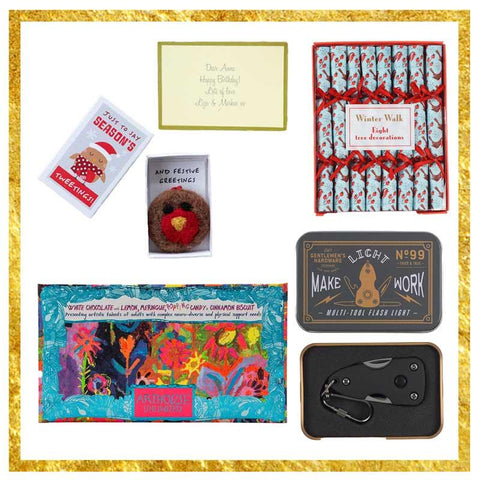 Postboxed Gift Boxes
Christmas Gift Box For Him (choose size)
For an easy way to fill a stocking or gift a lucky gift-lover, buy one of our Christmas Gift Boxes For Him! Also perfect to thank employees or that favourite supplier! Choose from small (4 gifts), medium (6 gifts), large (7 gifts) or luxury (9 gifts).
 SMALL - Containing the following gifts
Marvling Bros Christmas Tweetings Wool Felt Robin
Gentlemen's Hardware Mini Multi Tool with Torch
Arthouse Lemon Meringue, Popping Candy and Cinnamon Biscuit Crunch Chocolate
Rex London Mini Christmas Cracker Tree Decorations (Winter Walk)
MEDIUM - All the gifts from the small box plus
Omnom Caramel Chocolate
Ask Mummy & Daddy Cuba Libre Sweets (non-alcoholic)

LARGE - All the gifts from the medium box plus
Lauden Mixed Luxury Chocolate Box (x12)

LUXURY - All gifts from the large box plus
Catherine Tough Cashmere Socks (Red/ Orange)
Catherine Tough Lambswool Gloves (Sienna)
 Items are gift-wrapped and packaged in the same letterbox-friendly box with our signature customisable gift card. See links to individual products for further information.