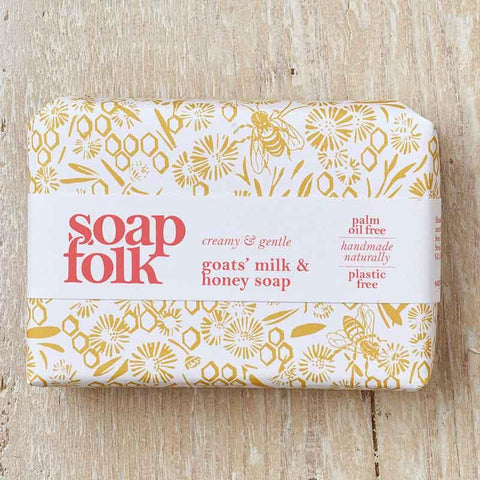 Soap Folk
Goats Milk & Honey Soap Bar
Handmade in the UK, this unscented soap is more suitable for those with sensitive skin. Goats milk makes this soap particularly gentle and creamy.
Soap Folk use local honey, deep and rich, to give you a little bit of extra moisturising. The honey gives this soap its attractive caramel colour and helps create a rich, bubbly lather.
A lovely letterbox friendly gift.
Using traditional, cold processed methods, Soap Folk's soaps are handmade in the UK. They use 100% ethically sources, natural, biodegradable ingredients and avoid all use of Palm oil and its derivatives. No detergents, SLS, alcohol, parabens, sorbates, silicones, sulphates, preservatives or artificial fragrances are used and all packaging is plastic free and recyclable.
CLICK FOR FURTHER DESCRIPTION