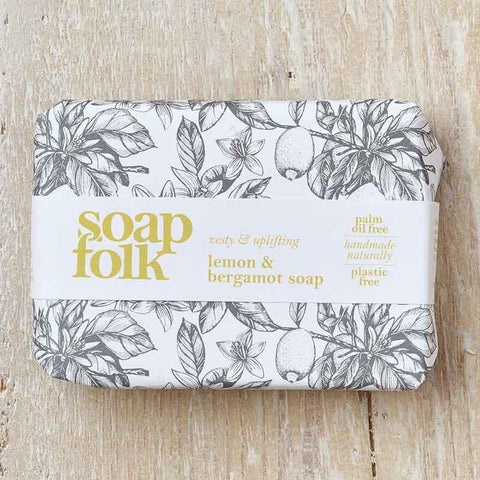 Soap Folk
Lemon & Bergamot Soap Bar
Handmade in the UK - refreshing Lemon essential oil is paired with uplifting Bergamot, to lend a sophisticated twist on a classic citrus fragrance in this lovely soap.
The natural yellow, unrefined tones of olive and sunflower oil shine through in this pretty, sunshine coloured soap. It is suitable for all skin types but oilier skins will benefit from the skin balancing qualities of lemon and bergamot.
A lovely letterbox friendly gift.
Using traditional, cold processed methods, Soap Folk's soaps are handmade in the UK. They use 100% ethically sources, natural, biodegradable ingredients and avoid all use of Palm oil and its derivatives. No detergents, SLS, alcohol, parabens, sorbates, silicones, sulphates, preservatives or artificial fragrances are used and all packaging is plastic free and recyclable.
CLICK FOR FURTHER DESCRIPTION