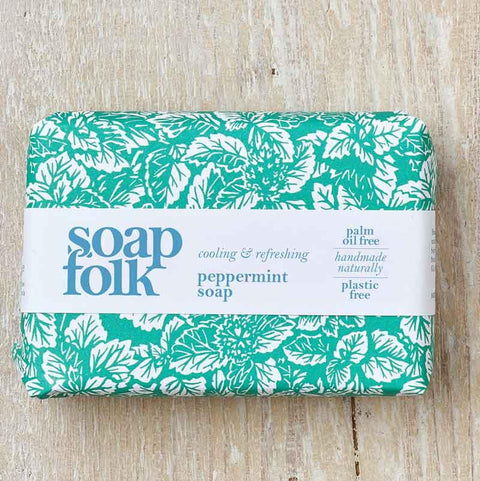 Soap Folk
Peppermint Soap Bar
Handmade in the UK, this refreshing peppermint soap is your saviour for that early morning wake-up shower.
This soap is perfect for cooling irritated or sunburnt skin. A touch of green clay will gently exfoliate and give good slip to the lather. The mintiness of organic peppermint oil tempered with the sweetness of a little rosemary oil is an irresistible combination.
Good for oilier and combination skin types.
A lovely letterbox friendly gift.
Using traditional, cold processed methods, Soap Folk's soaps are handmade in the UK. They use 100% ethically sources, natural, biodegradable ingredients and avoid all use of Palm oil and its derivatives. No detergents, SLS, alcohol, parabens, sorbates, silicones, sulphates, preservatives or artificial fragrances are used and all packaging is plastic free and recyclable.
CLICK FOR FURTHER DESCRIPTION