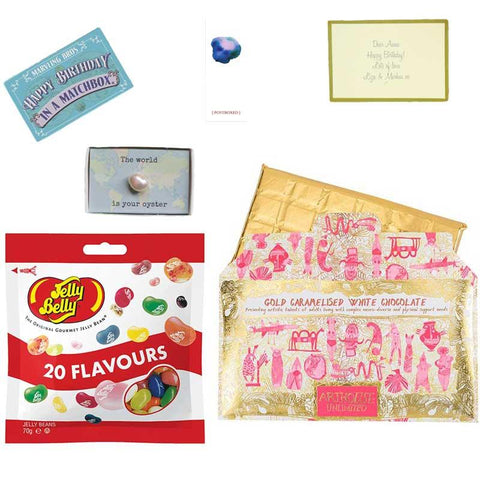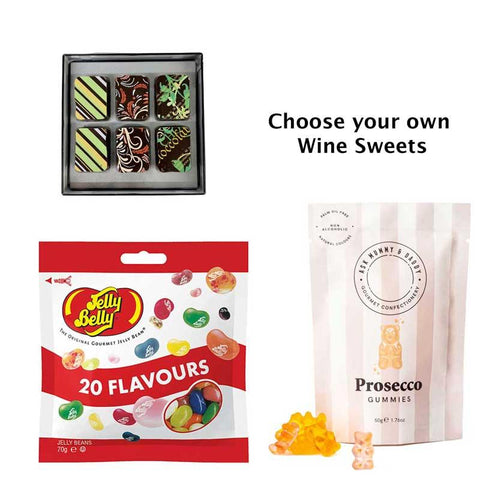 Postboxed Gift Boxes
DIY Treats Gift Box
An easy way to put a gift box together yourself and still make the most of our discounted gift box rate.
Choose your Chocolate from Arthouse (100% of revenue that Arthouse receives is used to sustain the enterprise, enabling it to expand and evolve):
MILK - Miaow For Now Silky Milk Chocolate
DARK - Dark Chocolate with Spiced Rum, Chilli & Caribbean Crunch
WHITE - Timeless Treasures Caramelised White Chocolate
Choose your Matchbox Gift:
HUG - A heart warming message with a little felt heart and instructions on how to post a good hug presented in a matchbox
MARSHMALLOW - everything you need for a mini 'camping' adventure: 12 mini marshmallows, two mini wooden toasting sticks, three candles, and full instructions on how to brave the great outdoors
BIRTHDAY - A birthday message in a matchbox, containing a genuine freshwater pearl and all important birthday candle
Choose your Sweets or Truffles:
Jelly Belly 20 Assorted Flavour Jelly Beans: 

This 

70g Grab n' Go bag of Jelly Belly's most popular 20 flavours makes the perfect addition to any one of our gift boxes.

 

Lauden Mixed Luxury Chocolate Box (x6): Try some of Lauden's Original Collection flavours that they have become known for including Fresh mint, Salted caramel and Passion Fruit. Suitable for: Vegetarians | Alcohol Free, Made in the United Kingdom by Lauden Chocolate. 
Prosecco Bears: Sometimes only a glass of bubbly will do. The little black dress of the sweet world, these bear shaped sweets are fun, sophisticated, and a little fancy. Bursting with bubbles and notes of peach, green apple, and floral aromas they're a great accompaniment for any prosecco lover. All sweets are completely alcohol-free, palm oil-free and made with natural colours.
All items are gift-wrapped and packaged in the same letterbox-friendly box with our signature customisable gift card.